Got Varicose Veins? – You Need an Accredited Vein Center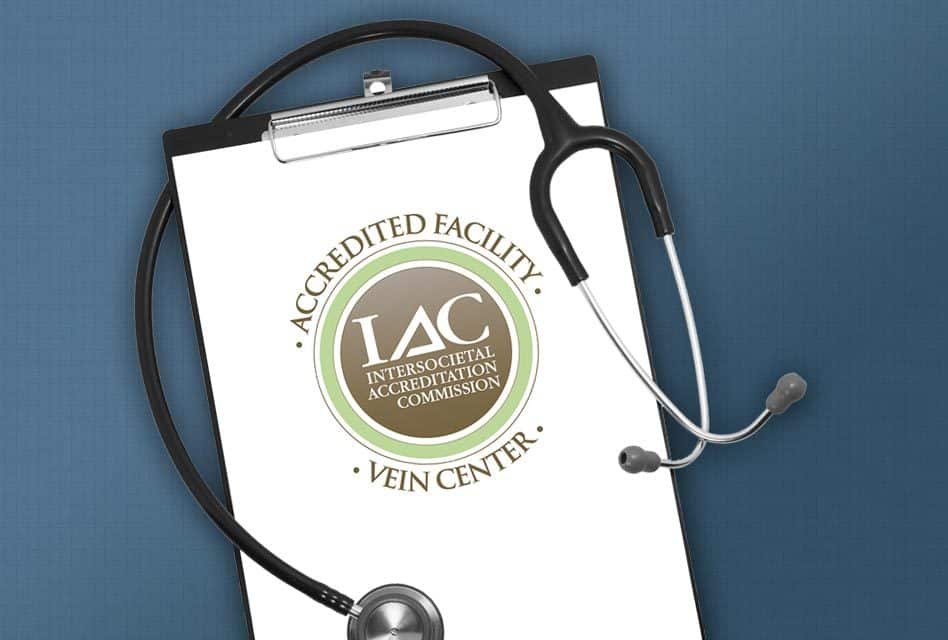 Varicose Vein Center Reaccreditation is Walking the Walk – Happel Laser & Vein Center
Breaking news! – Happel Laser & Vein Center has just been reaccredited and has passed inspection again.
After being one of the first vein centers in the country to achieve vein center accreditation three years ago, we have done it again.
After passing inspection the first time, our web site article entitled – Yawn, Why Should You Care About Vein Center Accreditation – was picked up and published by the Pittsburgh Post Gazette and the Washington Observer Reporter newspapers.
We consider it quite an accomplishment.
Passing vein center inspection wasn't easy.
So why does this matter to you?
Learn what getting vein center accreditation means to you by skimming the following standards.
The entire process took a pound of flesh as Shakespeare would say.
Updates for Vein Center Accreditation
On January 9, 2017, revised standards for accreditation were made.
Included were updates to the requirements for powered phlebectomy, wound care and nonthermal vein ablation techniques. Those include mechanic-chemical ablation, foam and glue treatments for the treatment of saphenous veins.
Clinics that only offer stripping, percutaneous laser (for spider veins), ultrasound guided sclerotherapy and perforating vein ablation alone do not qualify for vein center accreditation.
When a vein center becomes accredited, it has demonstrated that it has passed a rigorous process designed by national experts in the field of treating venous disease.
This process includes examination of the safety and quality controls devised by vein authorities to ensure positive outcomes from your varicose vein treatment.
Procedures are observed and examined.
Protocols and policies are scrutinized.
The whole kit and caboodle.
Deficiencies if seen are corrected.
The standards for accreditation of a vein center include:
The medical director must have at least three years of experience treating venous disease after residency or fellowship.
The doctor must have performed at least two hundred cases in four categories. Those categories must include at least fifty cases in each of the following. They are sclerotherapy (injections), phlebectomy, endovenous ablation (laser or radiofrequency) and wound healing.
A case log of all of these procedures that were performed must be submitted with the application.
Continuing medical education of at least thirty hours per year dedicated to venous disease, venous ultrasound, and venous treatment is mandatory.
Radiation safety, outcomes, quality control and appropriateness of care are evaluated.
Three letters of recommendation from other physicians familiar to the practice are required.
The case log for outcomes must be reviewed biannually.
If nurse practitioners, physician assistants or doctors of nursing practice see vein patients, they must:
Have done a minimum of one hundred cases which include history and physical examinations, assess diagnostic studies and perform a treatment plan.
Nursing staff need a minimum of fifty cases if they are performing visual sclerotherapy and complete a course of basic life support.
Nurses need thirty continuing medical education credit hours per year. Fifteen of those credits must be related to venous disease.
The entire medical staff must also be evaluated.
All staff members must have performed a minimum of one hundred cases in the four categories mentioned above.
More Criteria Required for Vein Center Accreditation – The Acid Tests
Since the treatment of venous disease requires a proficiency in venous ultrasound, all ultrasound technicians must be evaluated for full accreditation of the vein center.
Accepted ultrasound credentials include registered vascular technology, registered vascular specialist, registered technologist in vascular sonography, or registered phlebology sonographer. A minimum of one hundred documented cases are required. A minimum of fifteen credit hours of continuing medical education per year is a prerequisite.
Protocols including indications for treatment, contraindications, and reporting outcomes are necessary.
Written protocols for treatment or referred patients with superficial or deep venous blood clots or venous wounds are required.
Proper disposal of supplies must be documented.
The facility is examined for emergency situations which must be readily available in close proximity. The emergency cart/kit must be clearly labelled. Expiration dates must be regularly checked and inspected monthly.
A defibrillator (AED) and oxygen must be inspected every six months.
Sterilization of equipment with a written protocol is mandatory. Autoclave maintenance with records of service is examined.
An OSHA blood borne pathogen and universal precautions must be in place and regularly monitored.
In addition, a system for patient complaints, record retention, and patient confidentiality must have policy statements.
The ultrasound department must be accredited by the Intersocietal Accreditation Commission or the American College of Radiology.
Quality improvement measures and biannual meetings in this regard are mandatory.
It ends with an on-site inspection. Inspectors observe a sampling of vein procedures and complete chart reviews.
Why is Vein Center Accreditation Still Voluntary?
Shouldn't the government require this credential for payment of these services like they do for hospitals?
Yes!
Currently there are only six vein centers in the state of Pennsylvania that are accredited.
That low number is because vein center accreditation is not tied to reimbursement. In Massachusetts where it is mandatory to participate in their Blue Cross/Blue Shield plan, there are forty-two accredited vein centers.
Funny how that works.
All of this tremendous effort and work to become accredited (except in Massachusetts) remains entirely voluntary.
However, quality vein offices understand the importance to demonstrate this proficiency to the public.
Vein care has moved from the hospital when veins were stripped to the office setting. That's the result of minimally invasive procedures that no longer require general anesthesia.
Unfortunately, between you, me, and the bedpost, there is no licensing required to vouch for the safety and quality of the procedures performed in an office setting.
Shoddy vein centers are increasing because dissatisfied, burned out, and untrained doctors are switching into treating veins with no training or experience in the field.
It's difficult or impossible for these untrained doctors and substandard vein centers to pass a vein center inspection.
They are weeded out for you by not having their vein center accredited.
IAC vein center accreditation is a seal of approval that patients can rely on for optimal vein care done in a safe environment.
Conclusion
To sum it up: you can be reassured that after passing all of these demanding and intensive regulatory measures that the vein center where you have your veins treated is as safe as a hospital.
The chances of a great outcome are significantly increased in accredited vein centers.
Governmental agencies, insurance companies and honest doctors have the perception that inappropriate and unnecessary varicose vein care is rampant in this country.
Our country is caught between the devil and the deep blue vein.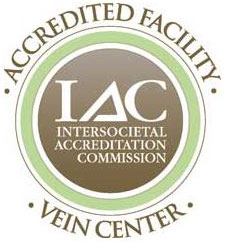 So why on earth would you risk having a vein procedure in an office that has never been inspected?
That's why they inspect houses before you buy one.
Cars are inspected too.
So are hospitals, jet planes, restaurants, bridges, elevators, food, roller coasters and even nail salons.
All varicose vein procedures are now done in doctor's offices.
Would you ever consider going to an vein center that has never been inspected knowing what you know now?
Call our inspected and recently reaccredited vein office at 724-969-0600 or click here to have your varicose veins evaluated by the most experienced and most qualified vein specialist in Pittsburgh.
Happel Laser & Vein Centre remains the only inspected vein center in Pittsburgh.